Modular Habitat Home Delivered in St. Michaels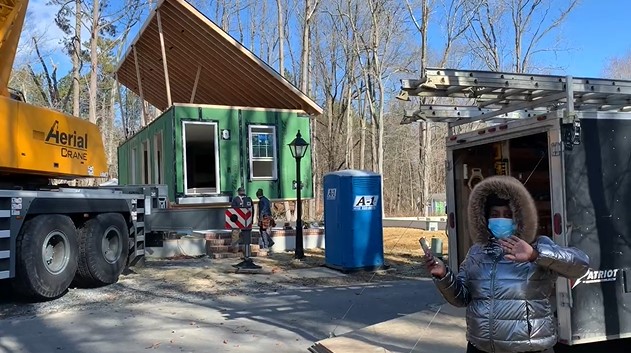 (February 2021). The last three of the seven Habitat Choptank homes in the Brooks Lane neighborhood will be modular homes built to the specifications of a Habitat home. The first of these homes arrived in the Brooks Lane neighborhood on Friday, January 29th. After its safe installation on a very cold and windy day, work quickly began on the front porch and the interior of the home through the use of local contractors. The two remaining modular homes on Brooks Lane are expected to arrive later this month.
Prior to the pandemic, Habitat Choptank had plans to explore the use of modular housing in order to continue to meet the need for affordable housing in Dorchester and Talbot Counties. These homes are not only durable and cost-effective but can be built in under six months as opposed to a stick build with the use of volunteers which takes 12 months. This approach has been ideal for current times when fewer volunteers have been available due to COVID-19 precautions. Moving forward, Habitat Choptank plans to utilize modular housing in both Talbot and Dorchester County when it is feasible to do so. However, there will still be lots of work for current, future, and returning volunteers — from the construction of porches to the siding on each home.
To keep everyone as safe as possible and based on national recommendations from Habitat for Humanity International, Habitat for Humanity Choptank has limited the use of volunteers on job sites since last year. Habitat Choptank was able to continue work in the Brooks Lane neighborhood through the use of contractors and their staff team (as allowed by federal and state requirements). To date, four of the seven homes are completed.
In late December, homebuyer Shavonte Greene and her two boys were able to move into their safe and affordable home. She was the fourth and most recent Habitat homebuyer to move into the neighborhood; her home was a "Faith Build" home, supported by churches and other people of faith in the community.
Habitat for Humanity Choptank celebrated the groundbreaking of the seven-home neighborhood in September of 2018. This project would not have been possible without the generous donation of property by the Dodson family; the additional support provided by the estate of Robert and Beverly Wolffe; and the collaboration among Habitat Choptank and Maryland's Department of Housing and Community Development, Maryland's Affordable Housing Trust, Bay 100 Churches, Talbot County, and the Town of St. Michaels.
Even before the coronavirus pandemic, more than 18 million U.S. households were paying half or more of their income on a place to live. Now, as the significant economic impacts of COVID-19 continue to unfold, the number of families struggling to make ends meet is only growing. In this moment of global crisis, Habitat Choptank's work to ensure that everyone has a chance at a brighter future in a safe and affordable home is needed now more than ever.
For more information, to make a donation that benefits our local community, or volunteer, call 410-476-3204 or visit www.HabitatChoptank.org.
---
about habitat choptank
Since 1992, Habitat Choptank has made home ownership possible for 90 families and has completed critical health and safety repairs in partnership with over 185 qualifying homeowners. At present, nine homes are under construction in Dorchester and Talbot Counties. Income qualifying homebuyers are offered access to affordable mortgage financing in order to purchase a new construction or rehabbed home from the nonprofit's project inventory.  After completing "sweat equity" hours, attending pre-homeownership classes, and meeting debt reduction and savings goals, these individuals and families will purchase homes that they helped construct and assume the full responsibilities of homeownership including maintaining their home, paying property taxes and repaying their mortgage over 30 to 33 years. Habitat accepts applications for its homeownership and repair programs throughout the year. For more information, to make a donation that benefits our local community, or volunteer, call 410-476-3204 or visit www.HabitatChoptank.org.