Home for the Holidays: Habitat for Humanity Choptank Dedicates 84th Home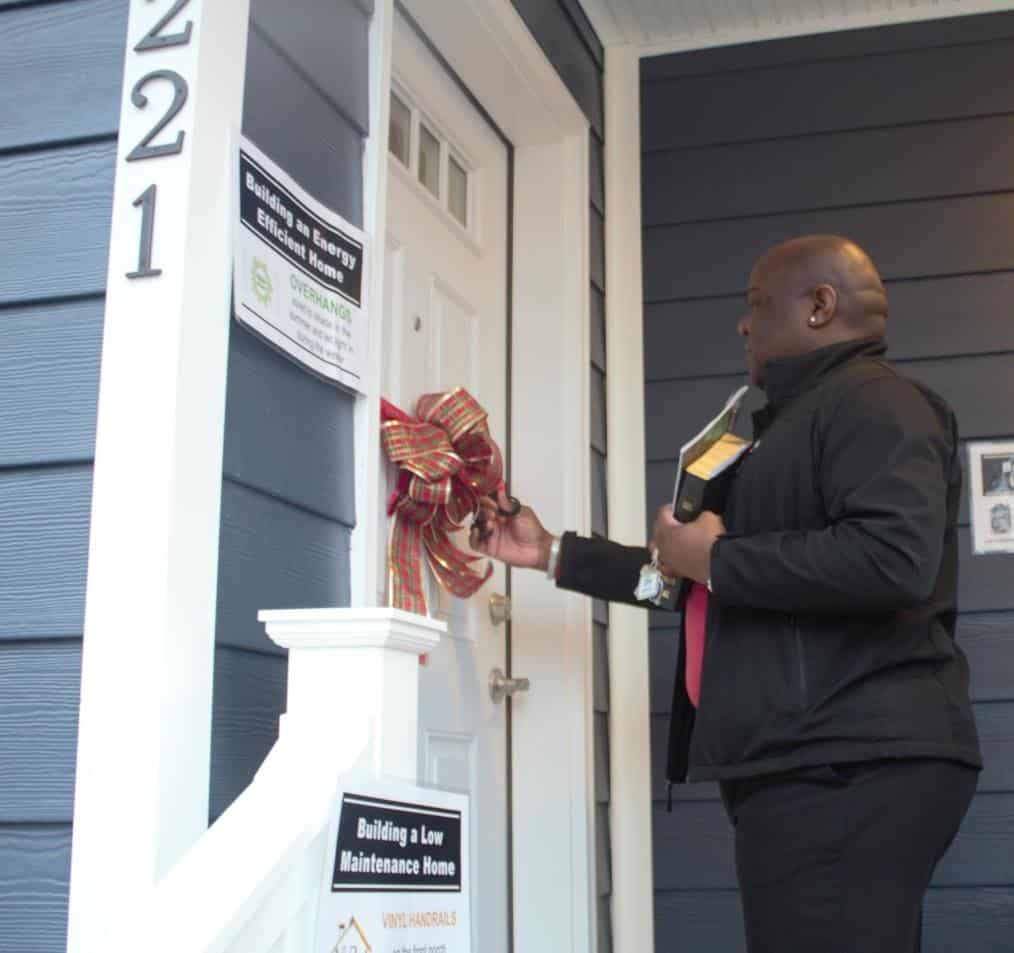 (December 2019). On Saturday, December 14th, family, friends, and Habitat homebuyers, board, staff, and volunteers gathered on Brooks Lane in St. Michaels to dedicate Habitat for Humanity Choptank's 84th home with homebuyer Duval Mills.
Duval Mills grew up in Talbot County and is the first of his siblings to become a homeowner. As part of Habitat's homeownership program, Duval completed 300 "sweat equity" hours, attended financial education classes, and saved funds for the down payment for his home while working full time.
Duval is currently the Head Waiter at Londonderry in Easton. He has been a beloved member of the Londonderry family for 18 years. Irma Toce, CEO of Londonderry, said that Duval's dedication to the Londonderry residents is "unbelievable and unparalleled." Many residents were in attendance at the dedication and a bus trip was organized for the event. At the dedication, Toce presented Duval with a Welcome Basket.
As described by Londonderry residents, Duval's "warm and caring personality" makes him a great employee and this will also make him a great neighbor. Harvey Zendt, a member of Habitat Choptank's Partnership Committee and Duval's coach, expressed this sentiment with the following introduction: "As I stand here and think of this burgeoning community, I think of Duval as a neighbor and as a leader."
Duval's home is one of seven Habitat Choptank homes that will be part of the Brooks Lane neighborhood and the first to be dedicated. Habitat for Humanity Choptank celebrated the groundbreaking of the seven-home neighborhood in September of 2018. This project would not have been possible without the generous donation of property by the Dodson family; the additional support provided by the estate of Robert and Beverly Wolffe; and the collaboration among Habitat Choptank and Maryland's Department of Housing and Community Development, Maryland's Affordable Housing Trust, Bay 100 Churches, Talbot County, and the Town of St. Michaels.
Among those who helped support Duval's dedication were, Corey Pack, President of Talbot County Council, and Tim Poly, Pastor of Royal Oak Community Methodist Church, who gave the invocation, benediction, dedication prayer and bible presentation. Community leaders from the Rotary Club of Easton donated a toolbox; Kristen Greenaway, President of the Chesapeake Bay Maritime Museum, presented Duval with a year-long museum membership; and the Habitat Choptank ReStore presented a gift certificate. Guests were also paid a surprise visit by the one and only Santa Claus who delivered a few early Christmas gifts.
Duval now assumes the full responsibilities of homeownership which include repaying his mortgage, maintaining his home, and paying homeowner's insurance and property taxes. Along with these responsibilities also comes a sense of pride and accomplishment of owning a home.
Thank you to all the volunteers, donors, and partners who helped make homeownership a reality for Duval.
For more information, to make a donation that benefits our local community, or volunteer, call 410-476-3204 or visit HabitatChoptank.org.
---
About Habitat Choptank
Since 1992, Habitat Choptank has made home ownership possible for 86 families and has completed critical health and safety repairs in partnership with over 181 qualifying homeowners. At present, 9 homes are under construction in Dorchester and Talbot Counties. Income qualifying homebuyers are offered access to affordable mortgage financing in order to purchase a new construction or rehabbed home from the nonprofit's project inventory. After completing "sweat equity" hours, attending pre-homeownership classes, and meeting debt reduction and savings goals, these individuals and families will purchase homes that they helped construct and assume the full responsibilities of homeownership including maintaining their home, paying property taxes and repaying their mortgage over 30 to 33 years. Habitat accepts applications for its homeownership and repair programs throughout the year. For more information, to make a donation that benefits our local community, or volunteer, call 410-476-3204 or visit HabitatChoptank.org.