Habitat for Humanity Supports Ukrainian Refugees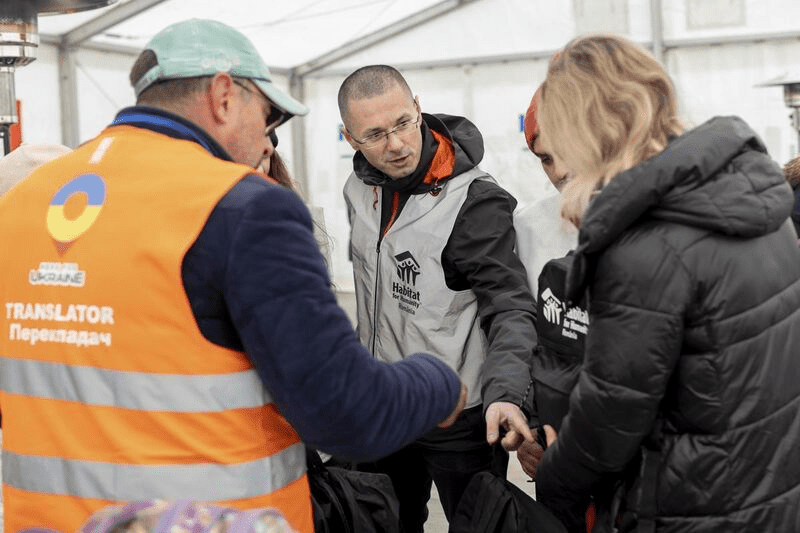 Habitat for Humanity International is providing support and shelter options for refugees fleeing the violence and war in Ukraine.
To support this effort, Habitat Choptank allocated $100,000 from their recent gift from MacKenzie Scott and is also undertaking a "Round Up for Ukraine" campaign at their ReStore in Easton.
[Trappe, MD] (April 2022). The Restore "Round Up for Ukraine" campaign will take place at Habitat Choptank's ReStore at 8610 Commerce Drive in Easton from May 17 to 31. The campaign will support the needs of Ukrainian refugees and will ask customers to also help by rounding up the total of their purchases to support relief efforts. Customers can also make a flat donation at the register.
Habitat for Humanity is dedicated to creating a world where everyone has a safe and decent place to live. In line with this vision, Habitat for Humanity International and its affiliates, of which Habitat Choptank is one, are responding to the crisis in Ukraine by providing support for short-, mid-, and long-term housing solutions for Ukrainian refugees in Ukraine's four neighboring countries. "As an organization that builds homes, communities, and hope, Habitat for Humanity is calling for an end to the violence that threatens all three," says Jonathan Reckford, CEO of Habitat for Humanity International.
As millions of Ukrainian refugees flee to neighboring countries of Poland, Romania, Hungary, and Slovakia, Habitat for Humanity International (HFHI) was asked by the United Nations High Commissioner for Refugees (UNCHR) to coordinate placement for them. Although HFHI is not a disaster response organization, it has committed to provide shelter and support for Ukrainian refugees in several ways, including the distribution of emergency travel kits, short-term hotel vouchers, and providing mid- and long-term housing options, including subsidizing rentals and refurbishing communal spaces.
Habitat staff members working in neighboring countries have reported watching trainloads of women and children crossing the border with only what they could carry. And the first questions asked of relief workers by the refugees were "Is there a place where we can sleep?" and "Where can we charge our phones?"  so that they could contact family members that stayed behind to fight.
"While we can't build or repair shelters in the countries that border the Ukraine, we can send our prayers and provide support for those who can," shared JoAnn Hansen, Executive Director of Habitat Choptank. "We are grateful to be part of an organization that stands firm in its commitment to helping those in need here at home and across the globe."
So far, Habitat affiliates globally have raised a total of $8 million for Ukraine, including $4 million from Europe and over $700 thousand from the United States. Habitat Choptank has given $100,000 to Ukraine from their $2.5 million gift from MacKenzie Scott. The affiliate hopes to supplement that with their "Round Up for Ukraine" campaign.
To learn more about Habitat Choptank and how it's supporting Ukrainian refugees, contact Habitat Choptank at (410) 476-3204 or email info@habitatchoptank.org.
###
About Habitat Choptank
Since 1992, Habitat Choptank has made home ownership possible for 97 families and has completed critical health and safety repairs in partnership with over 263 qualifying homeowners. Habitat Choptank provides services in Dorchester and Talbot Counties and currently accepts applications for its homeownership and repair programs throughout the year.
About Habitat for Humanity
Driven by the vision that everyone needs a decent place to live, Habitat for Humanity found its earliest inspirations as a grassroots movement on an interracial community farm in South Georgia. Since its founding in 1976, the Christian housing organization has grown to become a leading global nonprofit working in local communities across all 50 states in the U.S. and in more than 70 countries. Families and individuals in need of a hand up partner with Habitat for Humanity to build or improve a place they can call home. Habitat homeowners help build their own homes alongside volunteers and pay an affordable mortgage. Through financial support, volunteering or adding a voice to support affordable housing, everyone can help families achieve the strength, stability, and self-reliance they need to build better lives for themselves. Through shelter, we empower. To learn more, visit habitat.org.