Habitat for Humanity Choptank to Host Senior Resource Fair and Home Show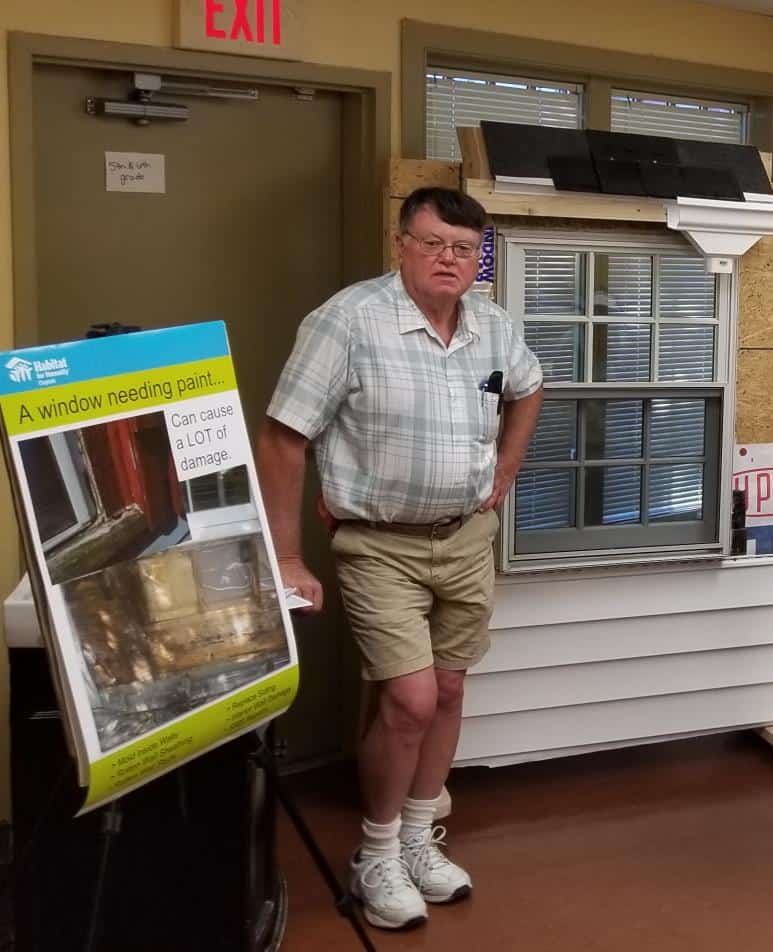 (August 2019). Habitat for Humanity Choptank will host a Senior Resource Fair and Home Show for the community on Tuesday, August 20, 2019. This free event will take place from 11am to 3pm at St. Luke United Methodist Church, 712 Bradley Avenue in Cambridge. Attendees will have the chance to visit with numerous community resources, enjoy a free lunch, door prizes and gift raffles, and meet with program representatives about critical home repairs. From tax prep assistance and health care information to craft and home repair demonstrations, the event will be a fun, informative opportunity for older adults and their family members.
Featured at the event will be the AARP Foundation's Here to Stay: Home Upkeep for All™ home maintenance workshop series for older adults. The workshop series will include information sessions and hands-on demonstrations. Habitat Choptank is one of only three Habitat affiliates nationwide chosen to implement and test the AARP Foundation's pilot program.
"This type of support for older adults in our community is key," stated Rhodana Fields, Habitat Choptank's Neighborhood Revitalization manager. "Through this program we are able support older adults looking to remain in their homes as they age. These homeowners are an important part of the fabric of their neighborhoods. This all contributes toward building strength, stability and self-reliance in the community."
Other organizations participating in the August 20th event include: The YMCA of the Chesapeake, Delmarva Community Services, Mid Shore Pro Bono, Craig's Pharmacy, Pleasant Day Adult Care, The Bay Area Center for Independent Living, and the Dorchester Health Department, as well as area contractors who will be presenting and demonstrating home maintenance projects. Other organizations are being added.
In addition to the workshops, the AARP Foundation funding will support Habitat Choptank's work to make health and safety repairs for qualifying seniors in Cambridge. Examples of eligible exterior projects include handrails, entry steps or ramps, peeling paint, doors, cracked or broken windows, roof repairs, and porch repairs. Priority will be given to homes that are incurring property maintenance fines from the City of Cambridge. Interior health and safety projects will include installation of grab bars, smoke detectors and carbon monoxide detectors, as well as removal of hazards such as mold or water in the crawl space.
"Here to Stay" is a part of Habitat for Humanity's national Aging in Place program, which Habitat Choptank has been deeply invested in since 2017. The program aims to improve quality of life for older Americans through home repair and modifications that foster a safe, livable and lasting environment to age in their home and community.
For more information about the August 20th event or the process for applying for home repairs, contact Rhodana Fields, Habitat Choptank's Neighborhood Revitalization manager at 410-476-3204 or rfields@habitatchoptank.org.
---
About Habitat Choptank
Since 1992, Habitat Choptank has made home ownership possible for 86 families and has completed critical health and safety repairs in partnership with over 181 qualifying homeowners. At present, 9 homes are under construction in Dorchester and Talbot Counties. Income qualifying homebuyers are offered access to affordable mortgage financing in order to purchase a new construction or rehabbed home from the nonprofit's project inventory. After completing "sweat equity" hours, attending pre-homeownership classes, and meeting debt reduction and savings goals, these individuals and families will purchase homes that they helped construct and assume the full responsibilities of homeownership including maintaining their home, paying property taxes and repaying their mortgage over 30 to 33 years. Habitat accepts applications for its homeownership and repair programs throughout the year. For more information, to make a donation that benefits our local community, or volunteer, call 410-476-3204 or visit HabitatChoptank.org.
About AARP Foundation
AARP Foundation works to end senior poverty by helping vulnerable older adults build economic opportunity and social connectedness. As AARP's charitable affiliate, we serve AARP members and nonmembers alike. Bolstered by vigorous legal advocacy, we spark bold, innovative solutions that foster resilience, strengthen communities and restore hope. AARP Foundation. For a future without senior poverty.