Habitat for Humanity Choptank Dedicates 83rd Home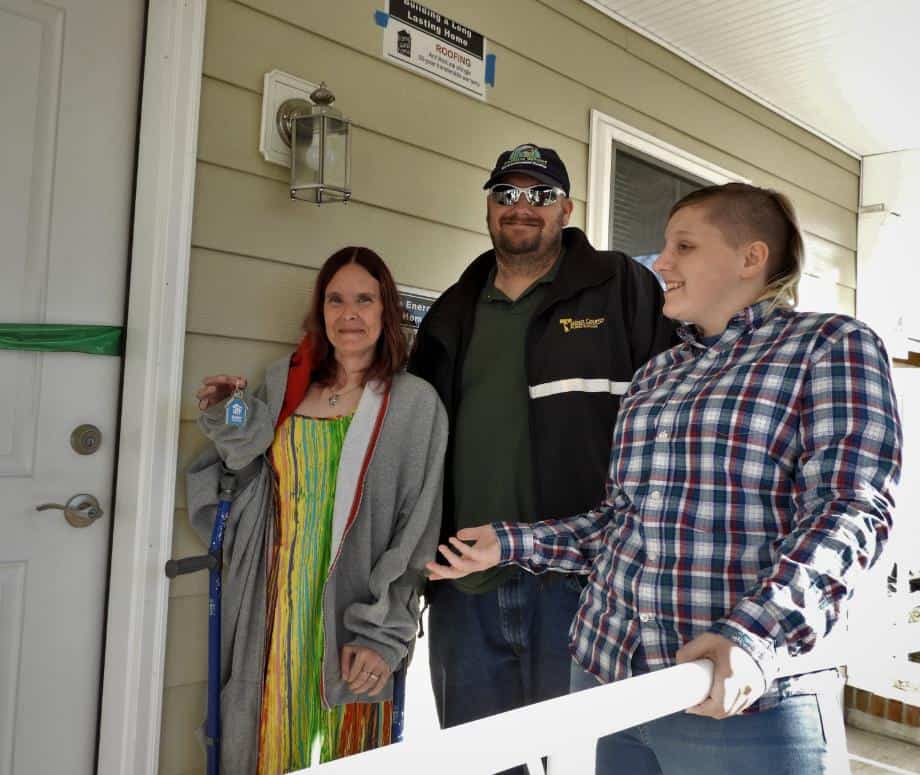 (October 2019). On Saturday, October 19th, family, friends, and Habitat homebuyers, board, staff, and volunteers gathered on Port Street to dedicate Habitat for Humanity Choptank's 83rd home with homebuyers Garth and Erin Hoff.
Several years ago, the Hoffs moved to Talbot County from New Hampshire for a fresh start. When they were unable to find steady work and an affordable place to live, they moved in with Garth's parents. Their homeownership journey had many hurdles to overcome; the Hoffs spent two years working on their finances prior to their acceptance into Habitat's homeownership program.
Once they were accepted into Habitat's homeownership program, the Hoffs went above and beyond to meet and exceed its requirements. As part of the program, Garth and Erin worked hard to complete 400 hours of "sweat equity" and attend homeownership classes. By the time of their dedication, the Hoffs had accumulated about 2,500 "sweat equity" and volunteer hours from jobsite and ReStore service. This is a record number of hours for a Habitat Choptank partner family.
For many Habitat homeowners, there is so much more to the homeownership process than just buying a house. The Hoffs exemplify this as they have embraced the Habitat community while working to share the sense of belonging that it has given them. There was no shortage of gratitude from and excitement for Garth, Erin, and their daughter, Lilyanna on the day of their home dedication. Garth even thanked Tiger Lily, the neighbor's cat and the first (unofficial) occupant of their forever home.
Among those who helped support this dedication were Paul Brant, Vice President of Habitat Choptank's Board of Directors, Lonnie Blessingame, a member of Habitat Choptank's Partnership Committee and the Hoff's coach, and BettyJo Costantino, a member of the First Baptist Church who gave the invocation, benediction, dedication prayer and bible presentation. Community leaders from the Rotary Club of Easton donated toolboxes; an anonymous donor supplied a barbecue basket; and the Habitat Choptank ReStore presented a gift certificate and welcome basket.
Garth and Erin now assume the full responsibilities of homeownership which include repaying their mortgage, maintaining their home, and paying homeowner's insurance and property taxes. Along with these responsibilities also comes a sense of pride and accomplishment that comes from owning a home.
Thank you to all the volunteers, donors, and partners who helped make homeownership a reality for this deserving family.
For more information, to make a donation that benefits our local community, or volunteer, call 410-476-3204 or visit HabitatChoptank.org.
---
About Habitat Choptank
Since 1992, Habitat Choptank has made home ownership possible for 86 families and has completed critical health and safety repairs in partnership with over 181 qualifying homeowners. At present, 9 homes are under construction in Dorchester and Talbot Counties. Income qualifying homebuyers are offered access to affordable mortgage financing in order to purchase a new construction or rehabbed home from the nonprofit's project inventory. After completing "sweat equity" hours, attending pre-homeownership classes, and meeting debt reduction and savings goals, these individuals and families will purchase homes that they helped construct and assume the full responsibilities of homeownership including maintaining their home, paying property taxes and repaying their mortgage over 30 to 33 years. Habitat accepts applications for its homeownership and repair programs throughout the year. For more information, to make a donation that benefits our local community, or volunteer, call 410-476-3204 or visit HabitatChoptank.org.