Habitat Choptank Welcomes New Board Members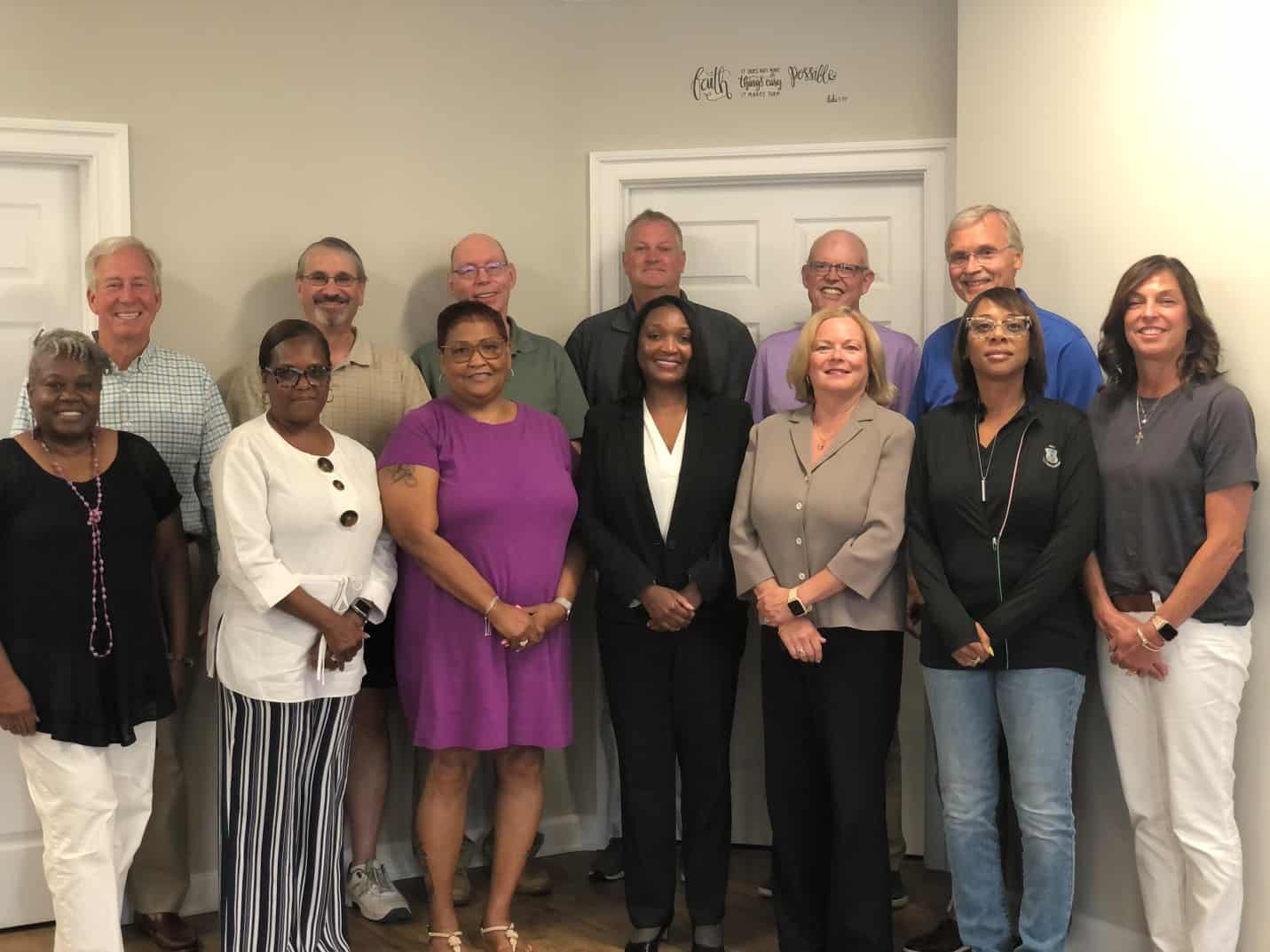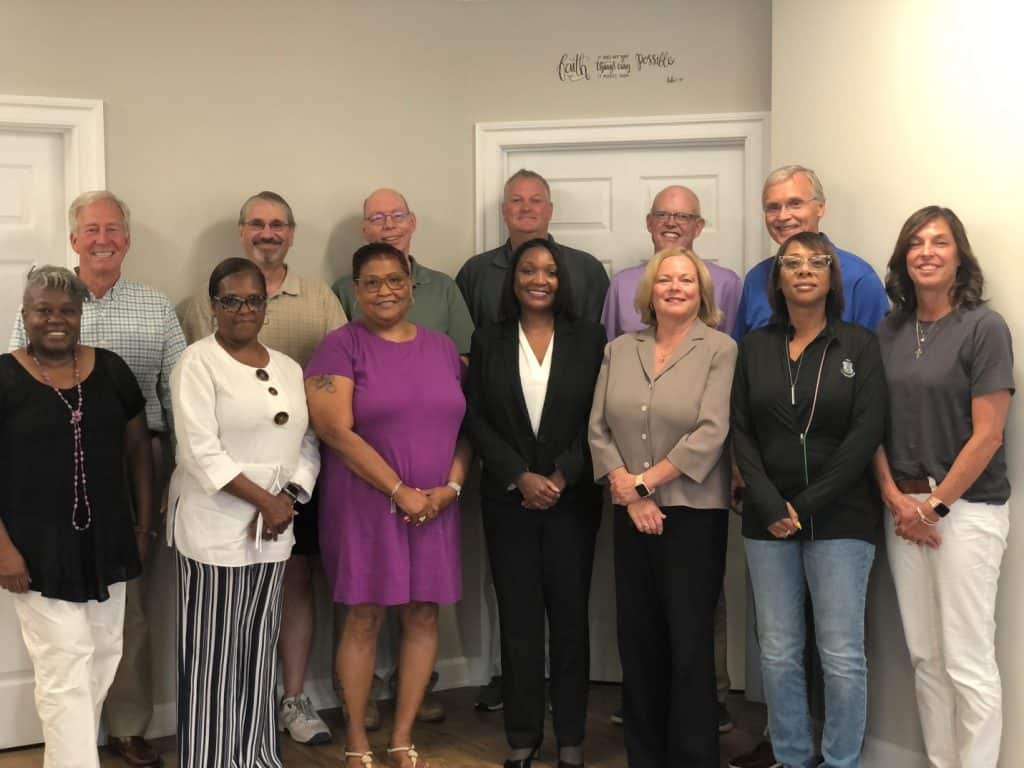 (August 2021). Habitat for Humanity Choptank welcomed six highly respected civic leaders onto its volunteer-based Board of Directors.  Christine Doria, Genevra Farrare, Latasha Nichols, Dave Perry, Mike Potter, Daphan Smith and Efrain Velazquez have been ushered in and will serve together with nine other board members in an effort to further the Habitat mission by offering their hard-working dedication and time-honored talents in the service of both the Talbot and Dorchester County housing communities.
Christine Doria has a Bachelor of Science in Chemical Engineering from Clarkson University and an MBA in Finance and International Business from NYU. Christine retired as a Managing Director from JPMorgan where she was a Global Product Executive and held other senior positions that leveraged her strategic planning, leadership, and communication skills. She has a patent for her work on the development of the Equilend securities lending trading platform.  Christine has been a lifelong champion of diversity and inclusion initiatives including leadership roles in the Society of Women Engineers and JPMorgan's Womens' Interactive Network and Diversity Committees.  Prior to JPMorgan, she held positions at Bankers Trust and the Union Carbide Corporation.
Genevra L. Farrare has a Masters of Education, an MBA, and is currently working towards an EDD in Higher Education & Adult Learning. Genevra served as the Executive Director of the Housing Authority of Cambridge. Under her leadership, the Housing Authority of Cambridge opened and successfully operated the Victoria Jackson-Stanley Inspiration Center which began as an after-school program for elementary – high school students and advanced to a learning center for Adults that offered GED courses in partnership with Chesapeake College. Genevra has also worked in a number of management and director positions for the Department of Housing & Community Development.
Latasha S. Nichols is an incredibly knowledgeable professional with experience in Court Management, Public Administration, Criminal Justice, Human Services, and Business Management in the public and private sector. Latasha has experience in program administration, management, composing grant proposals, organizational development, leading, staffing, design and implementation of effective programs. Latasha has a Master of Science in Public Administration, a Bachelor of Science in Criminal Justice, and an Associates of Arts in Criminal Justice. She currently works at the State of Maryland Judiciary for Dorchester County District Court.  Additionally, Ms. Nichols is a graduate of the National Center for State Courts Institute for Court Management: Certified Court Manager, Certified Court Executive, and Certified Fellows Programs. Also, Ms. Nichols is a certified instructor through the National Center for State Courts.  Ms. Nichols has earned numerous certificates and awards including the State of Maryland Governor's Citation, Maryland State Senate Citation, and the Maryland House of Delegates Citation.
David Perry has Bachelors of Science in Chemical Engineering from Cornell University and a MBA from Oklahoma State University. His work history consists of engineering, sales, marketing, and management experience. A dedicated member of the Tuesday Construction Crew, ReStore truck crew, and the Habitat Choptank ReStore committee, Dave has been a regular Habitat Choptank volunteer since 2013.  He has also been a long-time volunteer of ShoreRivers and the Easton Club East Community Association.
Mike Potter holds a civil engineering degree from Virginia Tech and an MBA in Finance from Loyola University Maryland. He has recently retired as senior partner of a 1,400-person planning, engineering and construction management firm. Mike and his wife, Debbie, both were born and raised on the Eastern Shore and community involvement is very personal for them.  Mike's other community involvement has included leading youth crews making home repairs for impoverished families in Western Maryland, working with organizations that support families needing shelter and addiction recovery, and serving on a number of local, state, and national boards.
Daphan P. Smith is a banking professional who's passionate about enriching the lives of others. She is native of Talbot County and a graduate of Easton High School. Daphan and her husband Willie L. Smith Jr. reside in Trappe, Maryland and have three children and five grandchildren. Daphan began a career in banking over 40 years ago with Maryland National Bank and currently holds the position of Assistant Vice President, Assistant Manager at Bank of America Easton Financial Center. Daphan is an active dedicated member of Scotts United Methodist Church in Trappe, Maryland for over 30 years. She has been a Girl Scout troop leader and has served in various capacities for White Marsh Elementary, Talbot Partnership Board of Directors, Pickering Creek Audubon Board of Directors, Talbot County Public School Advisory Committee and Talbot County Social Service Board of Directors. Currently, she serves on The Easton District United Methodist Church Board of Trustees and Habitat Choptank Family Selection Committee.
Efrain Velazquez served in the U.S. Navy where he was consistently chosen for demanding leadership positions with an emphasis on engineering systems aboard surface ships, nuclear aircraft carriers, and submarines, as well as large building facilities. This background led to a career building and supervising all manner of industrial plant and environmental systems, including plumbing, boilers, chillers, and plant engineering energy management. He currently serves as the CEO and President of AirMaster Heating and Cooling, Inc. Efrain is married and currently resides in Easton.
The insights and aptitudes of Christine Doria, Genevra Farrare, Latasha Nichols, Dave Perry, Mike Potter, Daphan Smith, and Efrain Velazquez will be critical in furthering Habitat Choptank's ambitious goals and mission.
Habitat Choptank will continue to work concurrently in three communities within its two county service area – Easton, St. Michaels, and Cambridge; build stronger neighborhoods through quality, sustainable new construction homes and rehabs to enhance the quality of life in local neighborhoods; and develop well-prepared home owners using right-sized financing combined with education, support and relationships pre- and post-settlement.
---
About Habitat Choptank
Since 1992, Habitat Choptank has made home ownership possible for 93 families and has completed critical health and safety repairs in partnership with over 263 qualifying homeowners. At present, nine homes are under construction in Dorchester and Talbot Counties. Income qualifying homebuyers are offered access to affordable mortgage financing in order to purchase a new construction or rehabbed home from the nonprofit's project inventory.  After completing "sweat equity" hours, attending pre-homeownership classes, and meeting debt reduction and savings goals, these individuals and families will purchase homes that they helped construct and assume the full responsibilities of homeownership including maintaining their home, paying property taxes and repaying their mortgage over 30 to 33 years. Habitat accepts applications for its homeownership and repair programs throughout the year. For more information, to make a donation that benefits our local community, or volunteer, call 410-476-3204 or visit www.HabitatChoptank.org.