Habitat Choptank Volunteer Gives Back from the Comfort of His Home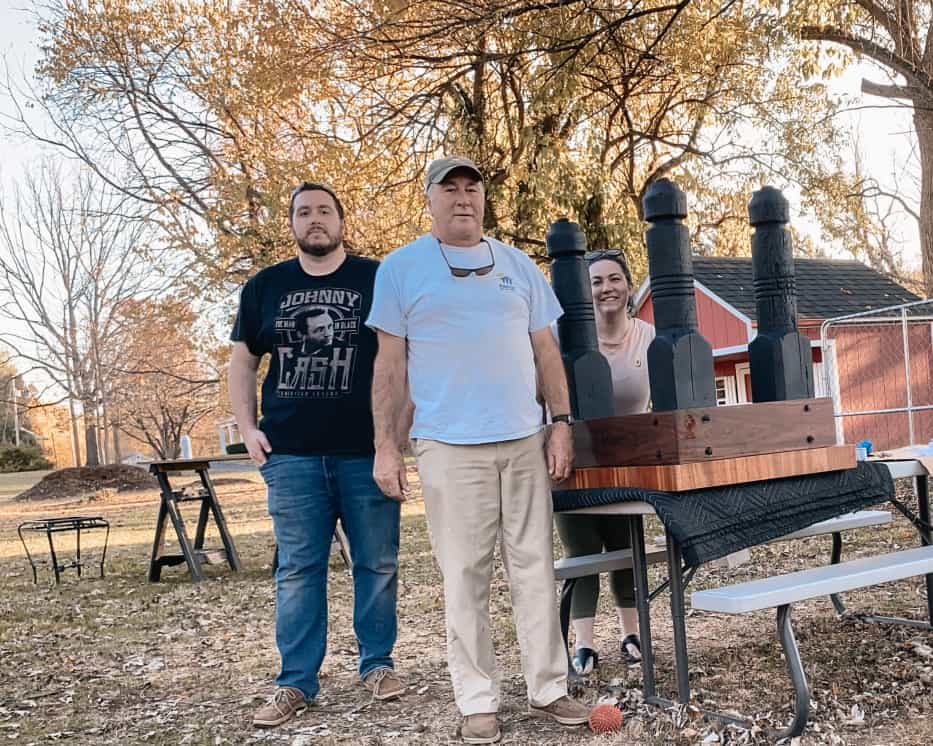 (December 2020). Roy T. Smoot, Jr. is a regular volunteer on Habitat Choptank's construction crew in Dorchester County. Roy has continued to support Habitat's mission — to build homes, communities, and hope — both on and off the job site, at a time when it is needed most. Roy and his children, Tom and Rachel, spent their down time amidst the COVID pandemic refurbishing a beautiful wooden table to raise money for Habitat Choptank. This table incorporated materials from the Habitat Choptank ReStore and will be on display and available for purchase at Reclaimed in St. Michaels.
Roy began volunteering part-time with Habitat Choptank several years ago and once he fully retired, he was on the job site three times a week. Roy started with limited carpentry experience but he was always willing to try new jobs on site and usually would excel in mastering them. He has since become a very talented carpenter. Roy has gone above and beyond the expectations for his role as a volunteer; he and his wife supplied a Thanksgiving meal for his fellow volunteers on the Dorchester construction crew in 2017; he took the initiative to become safety trained to be left to oversee a job site if needed; he found ways to solve work site problems at home and bring solutions back to the job site.
When Habitat Choptank job sites closed in response to the COVID-19 pandemic, Roy, like many other volunteers, found himself missing work on the construction site. Roy happened to find a gorgeous vintage table at an antique store in Stroudsburg, Pennsylvania and knew he wanted to reimagine it to help Habitat. Roy completely sanded and added a new 3-inch cross cut mahogany top to the table. The new table top was found at the Habitat Choptank ReStore. The table's new band board was made from old cherry wood donated by John Burtman. This wood was milled to remove oxidation, standardize thickness, and make the boards flat and square before it was finished with linseed oil.
The project became a family affair. Roy's son, Tom, helped attach the legs to the finished cherry band board. Roy's daughter, Rachel, finished the legs of the table. All of the table joints were precisely mitered without visible fasteners. The only hardware used on the project was black 5-inch lag screws to mount the farmhouse rough hewn table legs. The table's adjustable feet ensure that it is level at all times. The legs of the table were finished with two coats of dark navy chalk paint, one coat of clear wax, and two coats of black and then lightly buffed. "They show their age which adds to the vintage nature of the piece," Roy commented.
The finished table weighs between 100-150 pounds and could function well as a kitchen prep table or small kitchen island in a condo. The table was finished with four coats of butcher block and is food and oil compatible. The butcher block was made to ensure that future knife marks stay invisible.
Roy and his family hope that someone values the reclaimed table much as they do and "be willing to make a generous contribution to Habitat Choptank to take it home." Roy intends for his next project to include working on metal based, hammered black end tables with 2-inch thick live edge black walnut tops.
This incredible piece is on display and available to purchase at Reclaimed at 114 S. Talbot Street in St. Michaels. All proceeds will help support Habitat Choptank's mission to build homes, communities and hope. Thank you to Mark and Tracey Smith who own Reclaimed for their generous support in hosting and marketing this unique piece for sale in their store.
For more information, to make a donation that benefits our local community, or volunteer, call 410-476-3204 or visit www.HabitatChoptank.org.
---
about habitat choptank
Since 1992, Habitat Choptank has made home ownership possible for 89 families and has completed critical health and safety repairs in partnership with over 185 qualifying homeowners. At present, 9 homes are under construction in Dorchester and Talbot Counties. Income qualifying homebuyers are offered access to affordable mortgage financing in order to purchase a new construction or rehabbed home from the nonprofit's project inventory. After completing "sweat equity" hours, attending pre-homeownership classes, and meeting debt reduction and savings goals, these individuals and families will purchase homes that they helped construct and assume the full responsibilities of homeownership including maintaining their home, paying property taxes and repaying their mortgage over 30 to 33 years. Habitat accepts applications for its homeownership and repair programs throughout the year. For more information, to make a donation that benefits our local community, or volunteer, call 410-476-3204 or visit www.HabitatChoptank.org.
about iron will & woodworks
Iron Will & Woodworks was created with the mission of reconstructing and reviving the passion of history. The owners, Mark and Tracey Miller, have taken on the task of "rebuilding history one piece at a time." Their growing passion comes from travels around the country seeking lost historical treasures, old wood barns, dilapidated buildings, and homesteads. They are very excited to provide clients with a unique products and historical relevance that they can pass on to their family and friends. The owners pride themselves on the research they do for every piece of salvage, rare wood slab, antique, and vintage piece and truly love that their products strike a personal memory for so many customers that enter the shop. Their third store, Reclaimed at 114 S. Talbot Street in St. Michaels, Maryland, is an homage to the 1920s Industrial Era and the true grit of American factory workers, offering custom built furniture, restored gas pumps, and home decor and flooring.