Habitat Choptank Raffles off the Habitat Hut All Proceeds to Support the Habitat Mission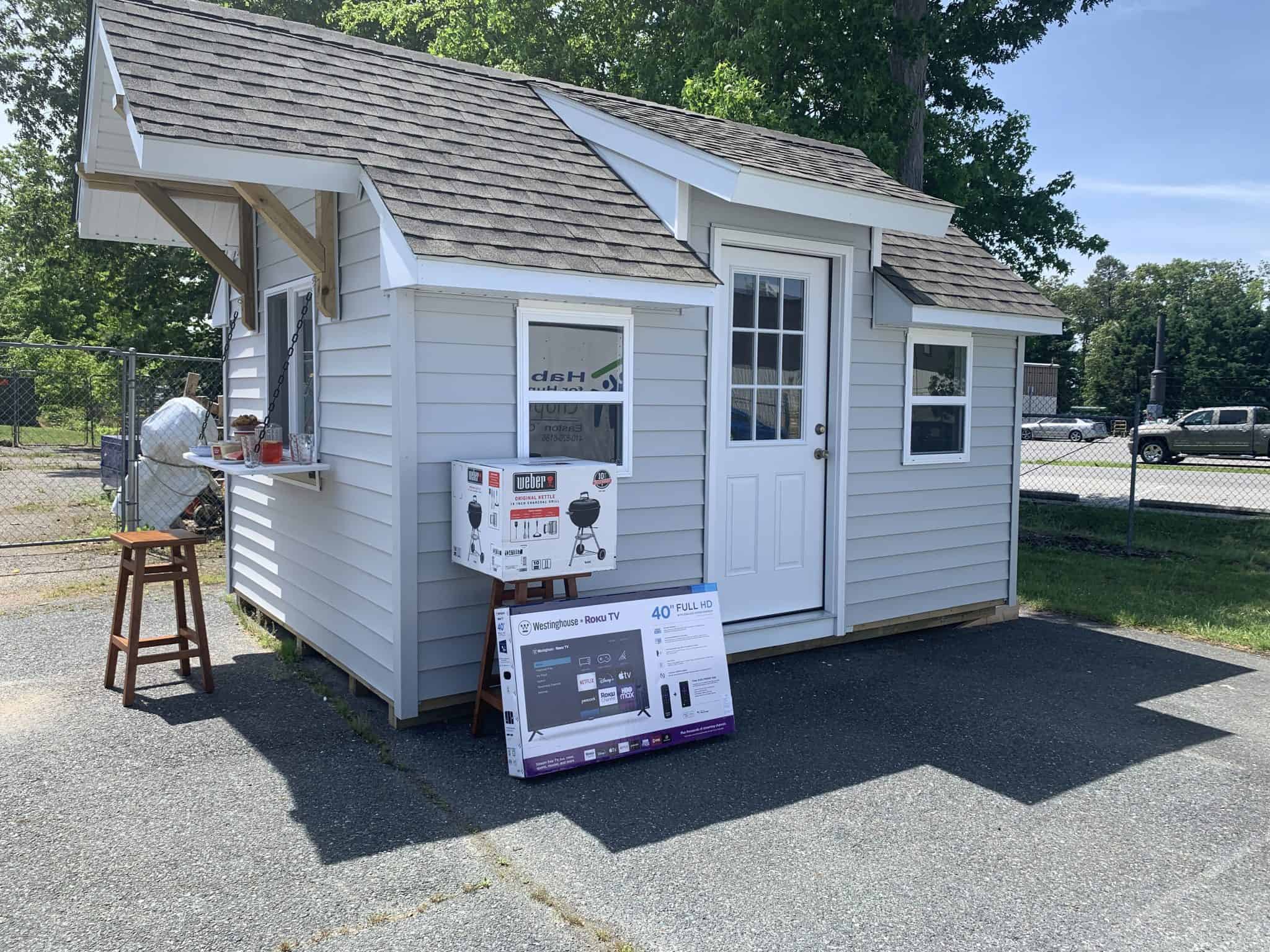 [Trappe, MD] (May 2022).  Habitat for Humanity Choptank is raffling off the Habitat Hut as a fundraiser for their mission to build homes, community and hope in Talbot and Dorchester Counties.
Habitat for Humanity Choptank is building and raffling off a backyard shed called the Habitat Hut as their spring fundraiser. The Habitat Hut is a 10' x 14' backyard shed valued at $8,000, and it was fully designed, constructed, furnished, and decorated by Habitat Choptank's dedicated construction volunteers, repair crew, and board members. The Habitat Hut includes a brand new TV, a new Weber grill for barbecues, and a counter window with barstools.
All of the proceeds from the Habitat Hut raffle will support Habitat Choptank's mission to build homes, community, and hope in Talbot and Dorchester Counties. "One in 7 households — 17.6 million in total — were "severely cost burdened," spending half or more of their income on housing, and Maryland's Eastern Shore is no better," said JoAnn Hansen, Executive Director for Habitat Choptank. "We are committed to ensuring that families in our area have a safe place to call home. Every ticket purchased for the Habitat Hut raffle will help more families in need."
Habitat Hut raffle tickets are $25 each, or five for $100. Tickets are available at the Habitat Choptank affiliate office in Trappe, at the Habitat Choptank ReStore in Easton, from Habitat Choptank board and staff members, and online at bit.ly/habitat-hut. The winning ticket will be pulled at the Habitat Choptank ReStore on Commerce Drive in Easton on June 15.
Habitat Choptank will pay for and coordinate delivery of the Habitat Hut for the winner to one address in Kent, Queen Anne's, Talbot, Caroline, or Dorchester County. Delivery must take place by July 31, 2022. For more details regarding shed permits and site preparation, visit habitatchoptank.org/news-events/habitat-hut/.
###
About Habitat Choptank
Since 1992, Habitat Choptank has made home ownership possible for 97 families and has completed critical health and safety repairs in partnership with over 263 qualifying homeowners. Habitat Choptank provides services in Dorchester and Talbot Counties and currently accepts applications for its homeownership and repair programs throughout the year.