A Night to Go Out and Give Back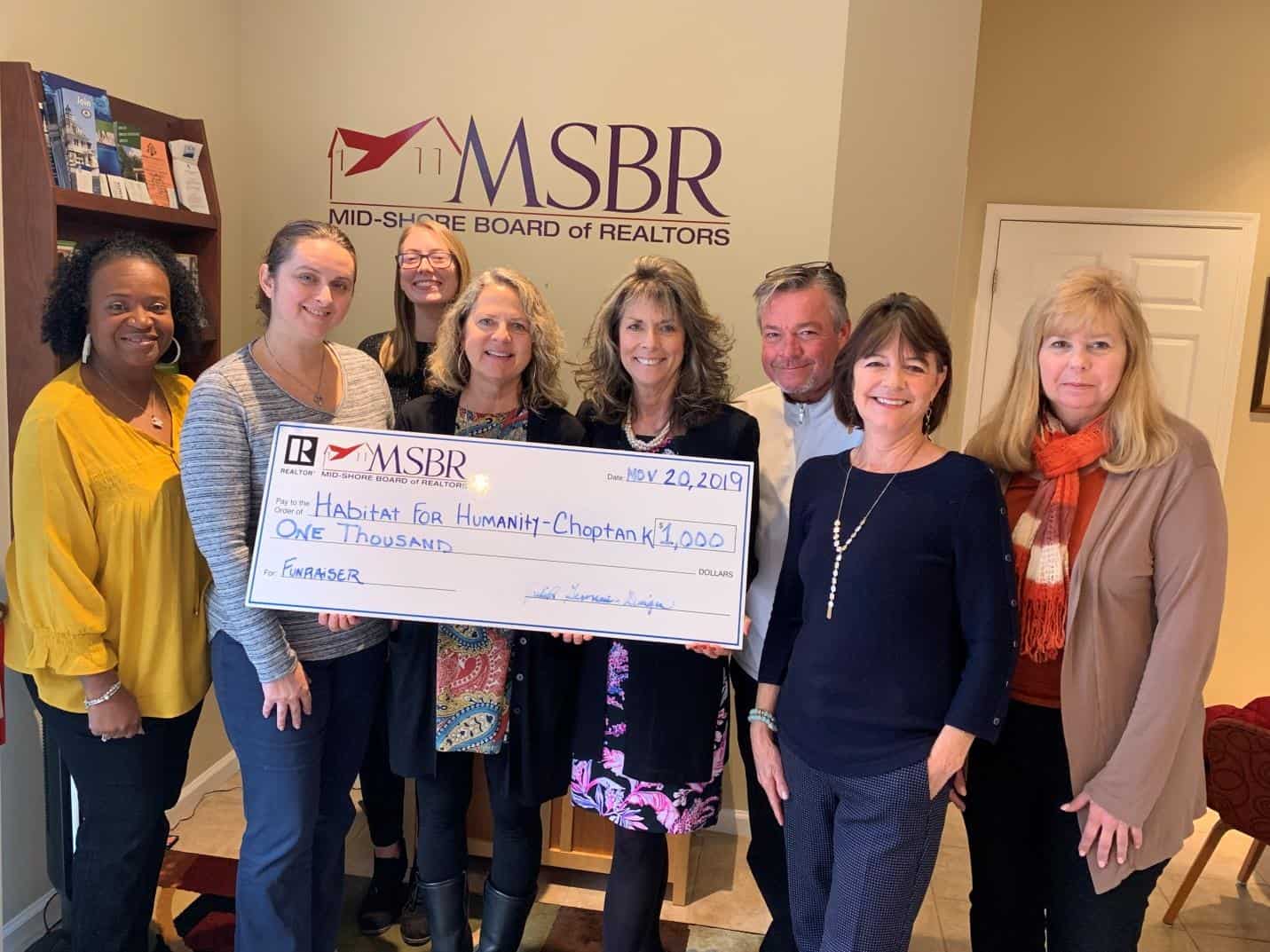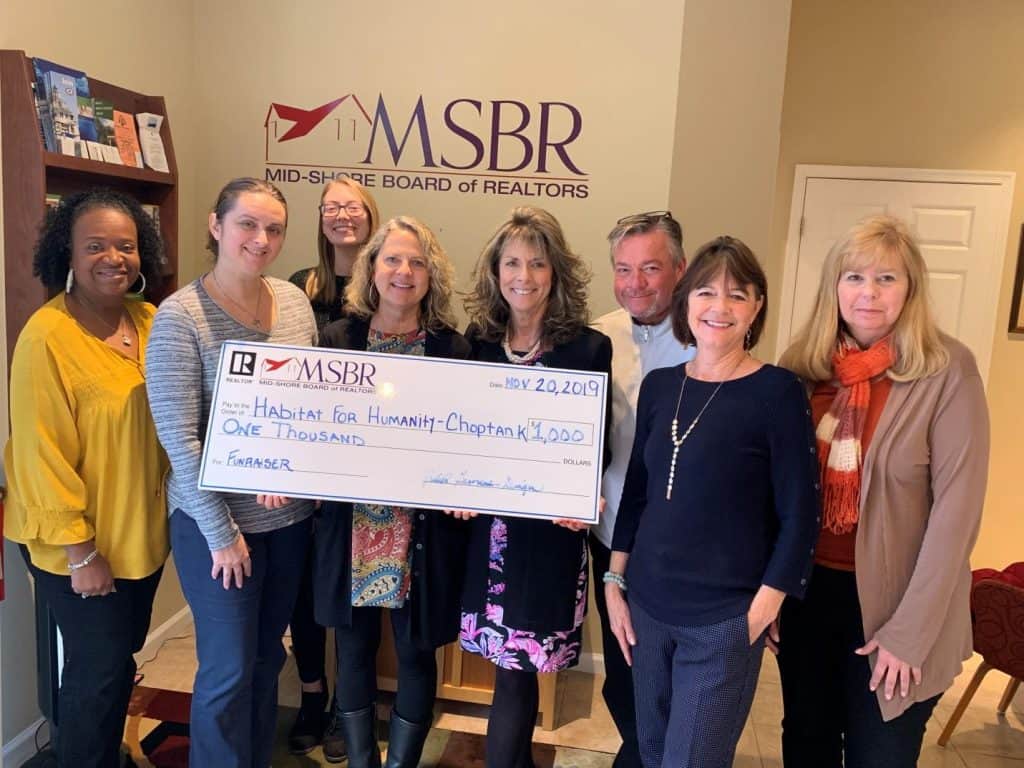 (October 2019). On October 23rd, Habitat for Humanity Choptank and the Mid-Shore Board of Realtors® (MSBR) partnered to co-host a night out at Blue Ruin in Cambridge. The two-hour, fun filled event provided a great opportunity for community members to network, try a new Cambridge hot spot, and give back. A percentage of Blue Ruin's sales, raffle ticket sales, and a donation from MSBR helped raise $1,000 to support Habitat Choptank's mission to transform communities and lives through the power of affordable homeownership in Dorchester and Talbot Counties.
In attendance at the event were MSBR and Habitat Choptank board and committee members as well as local community members. "Thank you to everyone who came to the event and to all those who helped make it possible," said JoAnn Hansen, Habitat Choptank's Executive Director. "We share a similar mission…ensuring that everyone has a place to call home.The support of partners like the Mid-Shore Board of Realtors allows us to continue to address the affordable housing crisis in our community and help our local homebuyers build better futures for their families."
The specialty cocktail for the evening was "The Closer" and appetizers for the event were donated by Ava's. Two great baskets were also raffled off; raffle baskets were provided by Habitat Choptank and Mary Beth Henderson of Embrace Home Loans.
"We love when our members can come together to socialize and raise money for a wonderful organization. We are looking forward to partnering with Habitat Choptank again in the future," said Judy Germian-Dinges, Mid-Shore Board of Realtors President.
Habitat Choptank and the Mid-Shore Board of Realtors would like to again thank Blue Ruin for the venue, the MSBR Membership Committee for planning the event, and all those who came out to support it.
For more information about this initiative and future events, to make a donation that benefits our local community, or volunteer on home repair projects, call 410-476-3204 or visit HabitatChoptank.org.
---
About Habitat Choptank
Since 1992, Habitat Choptank has made home ownership possible for 86 families and has completed critical health and safety repairs in partnership with over 181 qualifying homeowners. At present, 9 homes are under construction in Dorchester and Talbot Counties. Income qualifying homebuyers are offered access to affordable mortgage financing in order to purchase a new construction or rehabbed home from the nonprofit's project inventory. After completing "sweat equity" hours, attending pre-homeownership classes, and meeting debt reduction and savings goals, these individuals and families will purchase homes that they helped construct and assume the full responsibilities of homeownership including maintaining their home, paying property taxes and repaying their mortgage over 30 to 33 years. Habitat accepts applications for its homeownership and repair programs throughout the year. For more information, to make a donation that benefits our local community, or volunteer, call 410-476-3204 or visit HabitatChoptank.org.
About Mid-Shore Board of Realtors
The Mid-Shore Board of REALTORS® is comprised of over 400 REALTORS® and affiliates from Caroline, Dorchester and Talbot counties. MSBR is the "headquarters" for members to gather, discuss, plan and set in motion programs designed to benefit the real estate industry within the local community. This includes education and professional development opportunities, legislative involvement at the local, regional, state and national levels, dispute resolution for members and those they serve, and communication – with the public, to highlight the importance of property ownership and the value of using a REALTOR© – and with members, to keep them informed of opportunities for involvement, networking and growth. The Mid-Shore Board of REALTORS® is located at 8615 Commerce Drive in Easton