Together, Lowe's and Habitat for Humanity built International Women Build Week on a foundation of strength, resilience, and perseverance. This year's events will kick off on International Women's Day, March 8, and conclude on March 15.
A global event, International Women Build Week focuses on raising awareness of the challenges women face in accessing safe, affordable housing. Women Build events provide the opportunity for women to take a proactive step in serving their communities as well as a terrific way to involve your friends and family of all ages in crucial work with a lasting impact.
While there will not be an onsite build project this year due to the COVID-19 pandemic and there is no substitute for swinging a hammer, we invite you to join us for our Virtual Women Build Event.
how to get involved:
Every woman builds. Think of the women who have inspired you — whether they've helped you build hope, your career, strength, stability, or confidence — make a donation here in their honor. Your donation helps empower more women in our community. When you make a donation of $100 or more, you will be sent two postcards and two Women Build t-shirts that you can keep for yourself or send to a woman who builds in your life.
Check out our DIY videos. Learn new skills that can be utilized at home on DIY projects and hopefully down the road on future Habitat build projects! Video topics include fire safety tips, learning how to patch holes, caulking, and more! These videos will be shared on this page and via our YouTube and social media accounts.
Show your support. Connect with us on social media and share why you support Habitat Choptank on International Women's Day.
click here to donate in honor of a woman in your life
Habitat Choptank 2021 Women Build Shirts: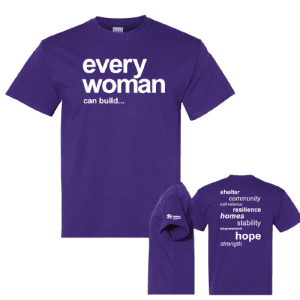 Learn more here.